Biography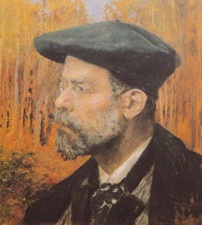 Hörmann (Painting by Johann Viktor Krämer)
Theodor von Hörmann is regarded as the first and only Austrian impressionist painter. He was born on December 13, 1840 in Imst in Tyrol. He set out to pursue a career as a military officer and taught gymnastics, fencing and freehand drawing in various military schools.
In 1869 Hörmann's first artistic attempts began with copies of color prints. He soon turned to painting in oil. In 1872, already 33 years old and totally self-taught, Hörmann began art studies at the Academy of Fine Arts in Vienna under Eduard von Lichtenfels. Among his classmates were the younger students Hugo Darnaut and and Hugo Charlemont. Hörmann gained access to Emil Jakob Schindler, the most important Austrian landscape painter of the period. In 1884 Hörmann resigned from military service, married Laura Bertuch, and became a freelance artist.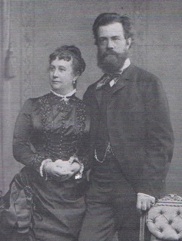 Hörmann and his wife Laura
Theodor Hörmann undertook study trips and took part in numerous exhibitions. His brushwork was increasingly free and impressionistic and his color range grew brighter. Encountering the French Impressionists at the Vienna World Exhibition of 1873 encouraged him to move to France where he lived from 1887 – 1990 and painted landscapes in the woods at Fontainebleau, Barbizon, Jersey and Guernsey and Paris.
From 1890 - 1894 the Hörmanns lived in Znojmo (at the river Thaya) where the painter developed a unique style inspired by the sparkling lights of the flower fields near Znojmo. From then on his paintings incorporated sparkling color points. This stylistic embellishment was not understood or appreciated by his contemporaries including both art critics and general public. Hörmann's works were regularly rejected in Vienna.
In December 1892 he traveled to Dachau to exhibit with his former colleague Adolf Hölzel; they both showed their work at the Kunstverein in Munich. A year later, 38 of Hörmann's paintings were presented at the Vienna Künstlerhaus.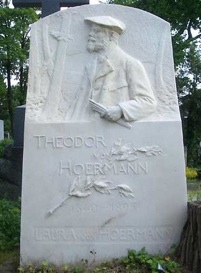 Hörmann's Gravestone at the Central Cemetery
In 1894 Hörmann traveled with fellow painters Johann Victor Krämer and Joseph Engelhart to Sicily and Venice. Returning to Vienna he took a studio in the Neuer Markt area. His health deteriorated rapidly and his plans for a modern art gallery were never realized. Still, it can be said that he was a champion of the Vienna Secession founded in 1897.
Theodor von Hörmann died on July 1, 1895 in Graz. He was given an honorary grave designed by sculptor Richard Tautenhayn in Vienna's Central Cemetery. That year his estate exhibited 235 of his works. Posthumously his paintings were well received. In 1899 his estate was auctioned with a portion of the proceeds directed by the artist to create a foundation for a young artists.